Our Partners
Hetzel Design

They are grounded in architecture as its main discipline and starting point in strategic thinking about projects. The company is based in the capital of entertainment, just a few blocks from Hollywood. Their theatrical and cinematic sensibility, drawn from their movie experience and combined with their place-making and architectural skills, has turned Hetzel Design into a perfect creative resource for theme parks, attractions, themed resorts and RDEs (retail-dining-entertainment destinations).
WAGIC

The name stands for: What A Great Idea Company, which was founded more than 30 years ago with a commitment to innovation in every stage of the design process. Whether they are designing their own products or that of a client, their goal is always to design for the real world. From concept sketches to the finished product, they focus on designing manufacturable, market-ready products.
On Track Themes

They fit into, elevate, and expedite the process by leveraging their creative, technical, and operational expertise from the first story written to opening day. They are here to support your project from start to finish. Services include concept design, schematic design, design development, procurement, production, installation, opening day, post-open / closeout.
GDE Design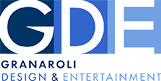 They analyze your business goals, then use this knowledge to optimize your product's scope to increase ROI. Then they get to user flows, wireframes, and the user interface & graphic design. Finally, they create your brand by connecting your company's qualities and philosophy with your target audience's mood.